the nfl season has come and gone faster than mason ramsey's 30 minutes of fame, and now it's time for the big dogs to compete. no more bullshit games. no more miami vs the jets, or cinci vs oakland. these games matter and they're going to be good.
i am notorious for being m*sh throughout this regular season. it just wasn't my year, but the past two weeks have been insane. i am a documented 13-1-1 in my last 15 picks (peep twitter boi @themookiebets), and within those winners includes the parlay of destiny (birds and bears) which hit for +325, and a fat teaser that paid out 3.5/1.
so i'm hot. some would say hotter jennifer anniston post 40's, but i won't give myself that much credit. let's get into some winners.
first off, here's the bracket.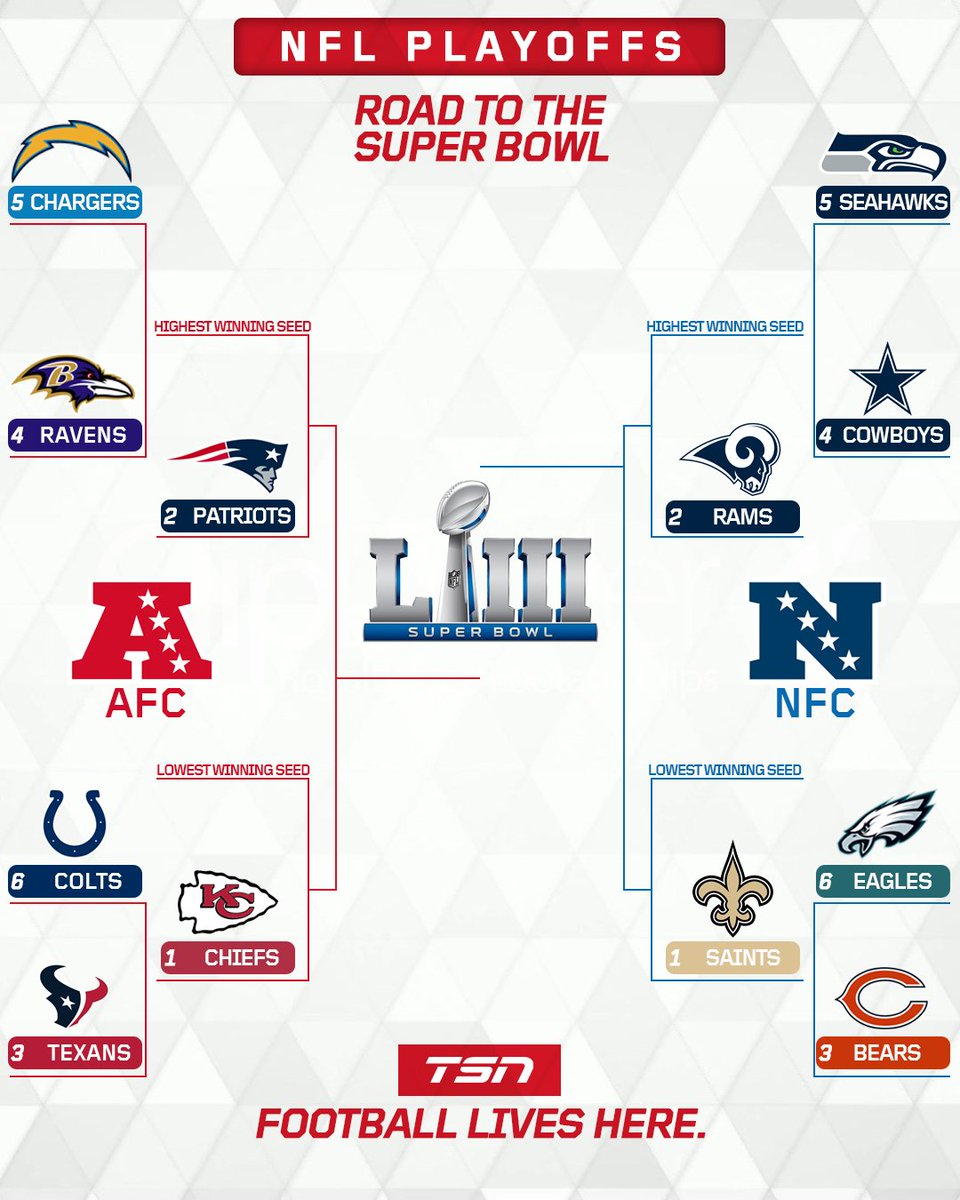 dark horse futures worth hammering:
eagles to win the superbowl +3000 – fly eagles fly, go fucking birds, big dick nick forever, and dougie big balls. i'm a giant eagles fan, but +3000 odds on the team of destiny with nick foles under center? did you watch the playoffs last year? or even our last 3 games of the regular season? foles gives the birds a shot to win the whole thing by just being on the field. he's a phenomenon that i simply don't understand, but with the power of christ at foles' back it would take thanos, the joker, and tom brady's jizz to stop the birds from repeating.
+3000 odds are too fat not to take on a team with borderline spiritual powers.
colts +2500 to win the superbowl – this is a real hail mary, but i like the colts for 2 reasons. 1, andy luck is playing out of his damn mind, and if your qb can sling it in the playoffs you're always going to have a shot. and 2, i like their road to the title the best out of all the dark horses. i absolutely love the colts this weekend against houston, who i think is the most overrated team in the nfl, and i think they have a realistic shot against the pats if thats how it shakes out. also take a peep at colts +1000 to win the afc. it's a backwards toss at the dart board, but hey, even blind people hit a bullseye every once in a while.
*besides these two dark horses to win the whole thing, i like chargers +1500 to win the chip and +650 to win the afc. otherwise, i'm not touching any of these other teams. i think the superbowl chase is more wide open than a chinese restaurant on christmas day, so pick your spot wisely or end up on the shitter until febuary.
wildcard weekend picks in order of game time:
colts vs. texans, saturday 4:35pm – colts +1.5 and +105 ML
the texans are more fake than that guy who's trying to get you to invest in his "business" and is really selling vemma verve. they're a fucking pyramid scheme that got everybody hyped up when they went on a fluke winning streak during the regular season, and now they're going to lose everyone money (if you're stupid enough to bet on them).
the colts are one of the hottest teams in the nfl, andy luck is a god damn field general, and their defense has shocked everyone this year. the texans are at home, but their offensive line won't be able to hold up, and watson is going try and do too much. lock in colts +1.5 and the ml for some close to even money.
seahawks vs. cowboys, saturday 8:15pm – hawks +2 and +115 ml
feed me this game. i'll take russell wilson over an inflated cowboys team led by a below average qb in dak prescott every fucking day. the cowboys are so fucking lucky it took the eagles this long to figure their own shit out, or else they wouldn't have won the division and wouldn't get home field advantage in this game. they may have even missed playoffs to be honest, but that's all behind us now.
the seahawks are a late season team. they won 6/7 games to end the season, and really turned things around per usual in december. i'm gonna ride russell wilson's hot hand all the way through the playoffs and take the free bread on the table. this line is a disgrace, hammer +2 and the ml.
chargers vs. ravens, sunday 1:05pm – chargers +2.5 and +130 ml
i'm a huge lamar jackson guy, but the rookie doesn't have enough juice to beat a veteran phillip rivers and all around solid chargers team twice in one season. the chargers were confused the first time around, just like i'm confused at how rivers doesn't understand the basics of birth control, but now they're adjusted and won't need to let lamar jackson buy them plan b again.
in that week 16 matchup, the chargers allowed jackson to break 200 passing yards, which was the only time he eclipsed that mark all season. i expect this game to be completely different. the lights are going to be too bright for jackson to handle as a rookie, and the chargers defense is going to force jackson to throw down field, and he will not penetrate their secondary again.
smash the chargers +2.5 and +130 on the ml. phil rivers fucks.
eagles vs. bears, sunday 4:35pm – eagles +6 and +205 ml
this game is going to be close, but the experience of the philadelphia eagles is going to outweigh the talent that chicago has on both sides of the ball. i see the birds defensive line rattling mitch trubisky to the point where he wants to leave soldier field by halftime and go home to kiss his momma's titties. i like mitch, but he doesn't have enough experience or talent to carry his team in crunch time.
with two stud defenses, this game is going to be a slug fest and come down to quarterback play. i'll take foles in the playoffs over mitch's first career playoff starts everyday of the week and like 8 times on sunday. pound the birds this weekend, they're going to make a run and start a major qb controversy in south philadelphia.
parlay of the weekend:
this beauty pays 21:1. ain't she pretty.
it's the weekend of the underdogs boys. don't buy into the fake hype, and take the free bread at the table like you're at olive garden. eat all of it. happy gambling team.
-not, not true.