from vice:
Thirty workers at an e-cigarette factory in Massachusetts were rushed to the hospital over the weekend after suddenly falling ill on the job—and no one has any idea what happened to them, Boston 25 News reports.

Suddenly, dozens of factory workers began to fall ill, some reportedly puking and others struggling to breathe. One worker also had a seizure, Salem fire chief Gerry Giunta confirmed to Gizmodo. The widespread illness sweeping through the plant ignited a "mass hysteria," deputy fire chief Alan Dionne told CBS Boston, and panicked e-cig workers raced to escape the factory before they presumably suffered the same fate.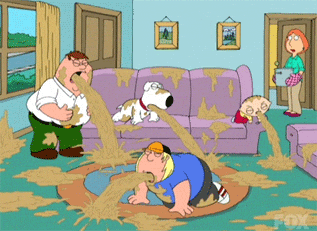 this is the only image that pops in my head.
but on a serious note, this is not a good look for e-cigs or juul in general. i am the biggest juul fiend on the planet, and even though i'm not stopping anytime soon, this bugs me a bit.
obviously, the chemicals they use to manufacture this stuff can be dangerous when rawly exposed to humans. no doubt. go find me a chemical in real cigs that aren't dangerous.
honestly, this doesn't bother me anymore (quick change of heart after i took a rip). this could've happened at any factory across the country, but of course it happens to an e-cig one. chime in the media. chime in the people that say e-cigs are just as bad as real cigs.
fuck that noise. i'll rip my juul over a cig anyday, even if the chemicals in their manufactory plant make people yack all over each other family guy style.
-not, not true.